EDUCATIONAL FORUM REPORT
The 2017 Convention and Education Forum maintained its reputation as a lively, informative gathering.  Ute Wartenberg Kagan, the Executive Director of the American Numismatic Society, said the USMexNA convention was her favorite show of the year, because of its lectures, while Peter Dunham singled out the sense of community. Throughout the two and a half days people could be seen clustering around tables in the restaurant or on the patio, renewing friendships, trading coins and currency or sharing information.  Cory Frampton, our Executive Director, was very pleased with the turnout, even though some members and dealers from California could not make it because of the wildfires, and even with these absences activity on the floor was better than previous years.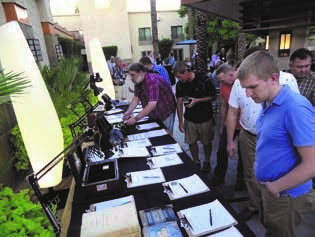 On Thursday after the set-up Augi Garcia-Barneche of Danial Frank Sedwick LLC, and early entry, Carlos Jara of World Numismatics, Paulina Jara, and the Welcome Cris Bierrenbach of Heritage Auctions Party was held on the pool area patio just outside the convention rooms.  Appetizers were sponsored by Cris Bierrenbach, whilst members viewed the Silent Auction and made their bids.  There were 26 different lots in the Silent Auction.  The highlights were an 1850 Durango Plate coin, donated by Mike Dunigan that fetched $1,000, an early engraved map of Mexico, donated by Dan Sedwick, that went for $250 and a framed chart of the Gulf of Mexico, from John Pullin, that raised $200.  NGC, PCGS and ANACs again offered grading certificates .
Books included the recently published A Variety Guide to the Fractional Pillar Coinage of Mexico City 1732-1771 from Brad Yonaka and The 1914 Revolutionary Coinage of Durango Mexico from David Hughes, as well as Mike Dunigan's Resplandores and two books cataloging the Florida collection (Cory Frampton).  Coins included a 1739 8 reales and 1906 gold 5 pesos (Chris Bierrenbach), a 1899 20 centavos and a 1914 one peso (Stephen Album) and a 1986 peso pattern (Rick Ponterio).  Eight litres of Allan Schein's mead went for $400 and in all the auction raised $4,160 for the organization.
As the sun went down Kent Ponterio and Cory Frampton hosted the awards ceremony, beginning with awards for the 2016 speakers.
This year the literary awards were:
Best Article – Spanish Colonial to Kyle Ponterio for "Philippines Overstrikes and Countermarks: Concerning Mexican Coins"
Best Article -War of Independence & Imperial to Ricardo de Leon Tallavas for "The Unknown Independence Coin Stamping of Monterrey in 1814"
Best Article – Revolution to David Hughes for "Estado de Durango 1 and 5 centavos"
Best Article – 20th Century Modern to Scott Doll for "A Study of the Mexico Colorized and Gilded One Ounce Silver Libertads"
Best Article – Paper Money General to Pablo Luna Herrera for "El Banco de Coahuila"
Best Article – Revolutionary Paper Money to Cedrian López-Bosch for "The vales of the Comisión Monetaria: a brief paper money issue after the chaos of the revolution" whilst the Best Overall Article went to Kyle Ponterio.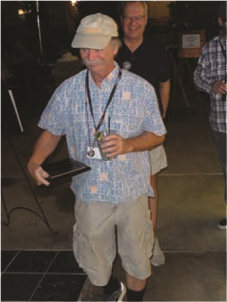 David Hughes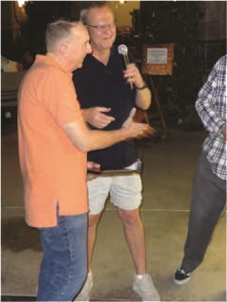 Scott Doll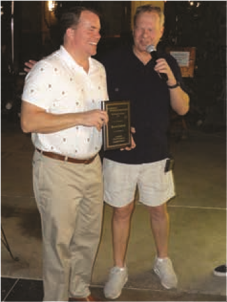 Dan Sedwick
The 3rd Annual Richard Doty Award was given to William Lovett and  the 3rd Annual Jed Crump Award went to Allan Schein.  In his address Kent praised Allan for the many differnt ways he had helped the association over the year.
Incidentally Allan has just published a new book, The $2½ and $5 Gold Indians of Bela Lyon Pratt, the first comprehensive book ever written about a popular and unique American coin series.  The book was judged the best U.S. coin book of the year by the Numismatic Literary Guild and Allan's research is the cover story of the November issue of The Numismatist magazine.
Elmer Powell won the award for best exhibit with an outstanding display of memorabilia from the reign of Emperor Maximilian, including documents, coins, medals and even swords.
Elmer had another display of proofs of currency planned for Huerta's abortive attempt to recapture power in 1915.  Kyle Ponterio had a display of Mexican coins – imitations, counterfeits and modern concoctions whilst David Hughes showed off the Durango coins that are the subject of his book.
All in all a very pleasant evening but possibly surpassed on the Saturday when Kent Ponterio invited everyone back to his house for food and drink, laying on a couple of buses to shuffle people back and forth.  In addition to a lavish offering of food and drink, Kent threw open his games room with its pinball and arcade video games and a full size pool table. Delicious food, endless wine and beer and a great atmosphere meant that some stayed into the early hours and were conspicuous by their absence on the Sunday morning.
Back in the convention hall David Lisot of Coinweek had a stall selling DVDs of the presentations from previous conventions and also video-recorded this year's speakers.
In addition to the ever popular counterfeit detection seminar run by Kent Ponterio, Dan Sedwick and Mike Dunigan there were five guest speakers.  Each was an acknowledged expert in his field and gave an informed, well-illustration presentation that invariably stimulated a debate among attendees.